Scholarship Details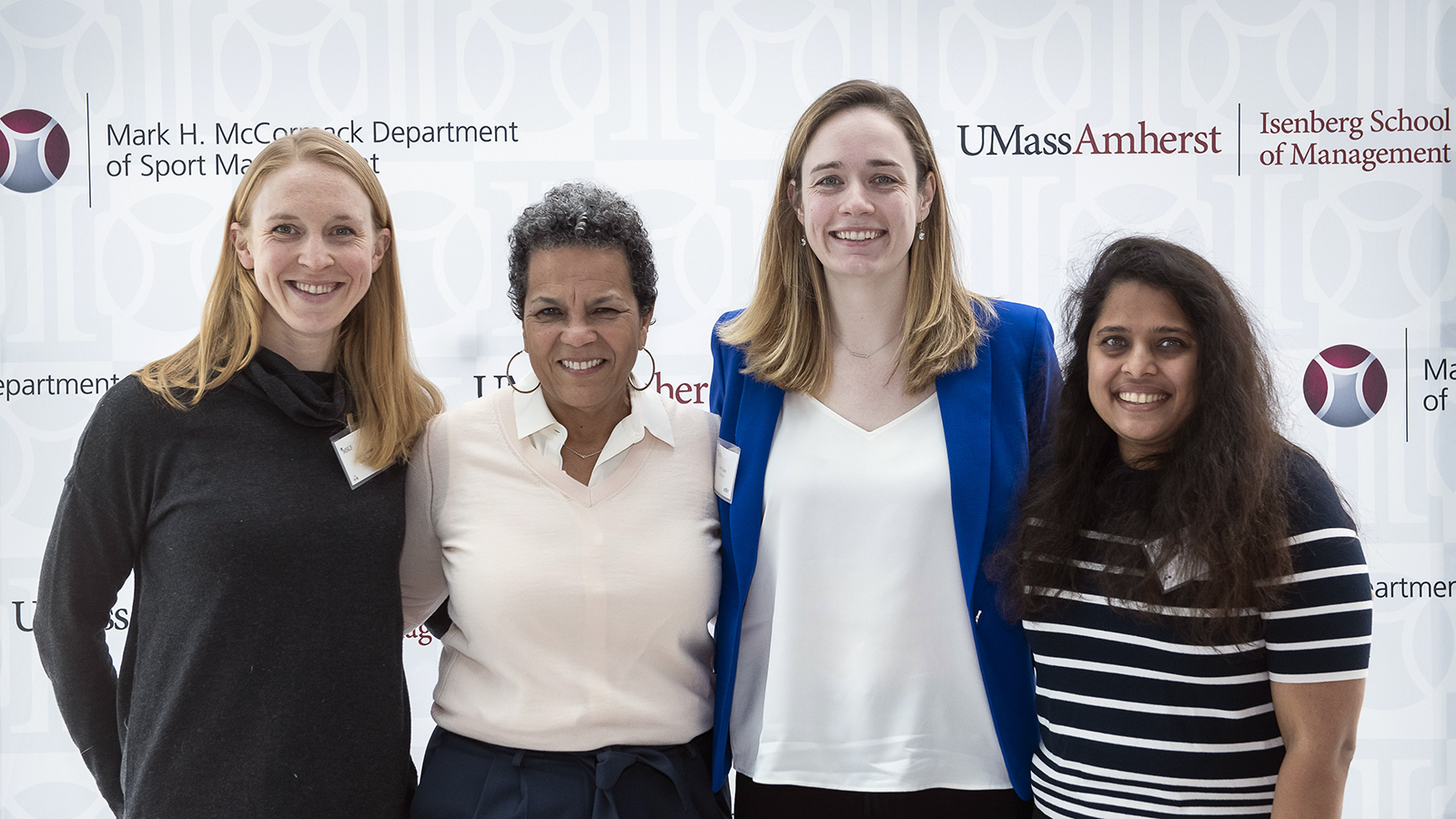 WISE Scholars Kelsey Sloan, Patsy Kealy and Ishita Tibrewal with WISE President Kathleen Francis.

The WISE/McCormack Graduate Scholars Award Program will grant two tuition-free scholarships annually: one for the McCormack Department of Sport Management's two-year MBA/MS dual-degree program and another for the department's one-year MS program.
Scholars Award Program Includes
Admission into the McCormack graduate sport management program within the Isenberg School of Management at UMass Amherst

A graduate assistantship that covers tuition and fees associated with the program. The assistantship requires 10 hours of work in an assigned position, such as teaching assistant or administrative assistant, per week for each semester of the program. The MBA/MS program is four semesters; the MS program is two semesters. The assistantship also includes a stipend of approximately $12,500 per year (subject to annual increases).
Excluded Fees
The following fees are not included in the Scholars Award Program and must be borne by recipients directly: one-time graduate entry fee ($357); annual service fee ($635); annual graduate senate tax ($69); annual mandatory student health fee ($635); travel and lodging costs to attend mandatory on-campus interview during application process; housing costs; and the cost of the required summer internship credits, which must be secured through UMass Continuing and Professional Education. All fees represent approximate amounts and are subject to change.
Note: MBA/MS dual-degree students must earn six summer internship credits between Year 1 and Year 2, the cost of which is approximately $1,400 total; MS degree students must earn three summer internship credits following completion of their regular coursework in May, the cost of which is approximately $725 total.
Recipients may, but are not obligated to, use their graduate assistantship stipend to cover the cost of any or all of the excluded fees.
Scholars Award Eligibility
To apply for the Scholars Award Program, you must be a professional-level WISE member in good standing at the time of application and, if accepted, through the duration of the graduate degree program. Student members are not eligible.
Applicant Criteria
The graduate sport management programs within the Isenberg School of Management and McCormack Department of Sport Management at UMass Amherst are highly ranked, and admission is highly competitive. Candidates must meet the following minimum qualifications:
Undergraduate GPA: 3.3
Minimum of one year of professional work experience gained after completion of undergraduate studies (work does not need to be within the sports industry)
The GMAT/GRE test score requirement is waived for WISE applicants.
| Access Date | Quiz Result | Score | Actions |
| --- | --- | --- | --- |