WELI Session Objectives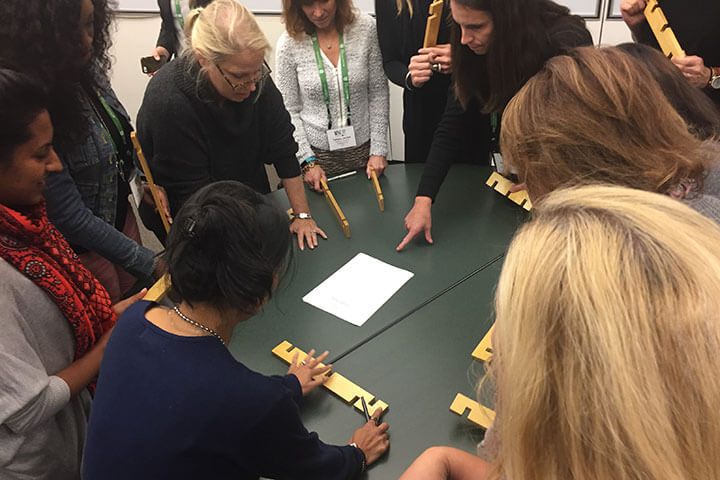 WISE Executive Leadership Institute at Tuck: Team building exercise
A variety of teaching and learning methods will be used in these sessions, including presentation of frameworks, concepts and best practices; facilitated large group discussions; experiential learning; small group application exercises and individual self-assessment instruments. The faculty-led sessions will be complemented by guest speakers and panelists on selected topics as well as opportunities for reflection, networking and physical exercise.
Leader in Action: Getting Results with Others Action Learning Associates
Understand your TypeCoach Verifier personality inventory results and the relationship of those results to your leadership style relative to leading change
Develop a visceral, behavioral understanding to complement intellectual understanding of leadership and teamwork
Practice getting results working in teams though a series of performance challenges
Strategic Networking Stacy Blake-Beard
Identify your "developmental opportunities" in relation to your network
Learn how to enhance your networks
Learn how a strategically developed network benefits you and your organization
Negotiations Lisa Dicker
Reflect on your negotiation style — strengths and areas for improvement
Learn a vocabulary and structure for setting goals, preparing, engaging and reviewing key negotiations
Practice applying those concepts in experiential exercises and role plays
Get expert coaching on your live negotiation challenges
Difficult Conversations Lisa Dicker
Understand why some of our most important conversations are so hard and the concepts of the internal voice, the structure of difficult conversations and the role of emotions and identity
Examine the common mistakes we all make
Develop tools to prepare for and engage in difficult conversations more effectively
The First Tenet of Leadership Ella Bell Smith
Understanding the source of your true leadership muscle
Enhancing your leadership narrative
Creating stronger followership
Understanding your approach to leadership from multiple angles
Information Value of Primary Financial Statements Phillip Stocken
Develop skills to interpret and confidently use financial statement information for business decision-making
Discuss the purpose of the balance sheet, income statement, and statement of cash flows
Examine and understand the accounting concepts for revenue and expense recognition
Financial Analysis for Strategy Implementation Phillip Stocken
Learn to analyze and interpret metrics
Understand how to align business decisions with strategy using key performance indicators
Create a framework for identifying opportunities for performance improvement
Strategic Leadership: Key Capabilities of Strategic Leaders Sydney Finkelstein
Explore what it takes to create a strategic mindset and the essentials of successful strategies
Identify the major challenges your organization faces now and over the next three years
Reflect on what you are doing to meet these challenges
Understand how to make knowledgeable strategic choices so action can be taken
Managing Your Visibility Stacy Blake-Beard
Reflect on your own social identities and how the resulting group memberships inform your behavior, feelings and attitudes generally and in specific settings
Learn about implicit assumptions you may be making about people — and people may be making about you
Identify action steps to utilize visibility strategies to meet leadership goals
Integrating Your Life Ella Bell Smith
Explore what work-life integration means for you
Look at the many facets of your life
Examine the role you play in each area, the changes you would like to make, and the actions steps you need to take to make it happen
*Subject to change. Session content will be refined based on identified participant needs and experience.
| Access Date | Quiz Result | Score | Actions |
| --- | --- | --- | --- |