WELI Faculty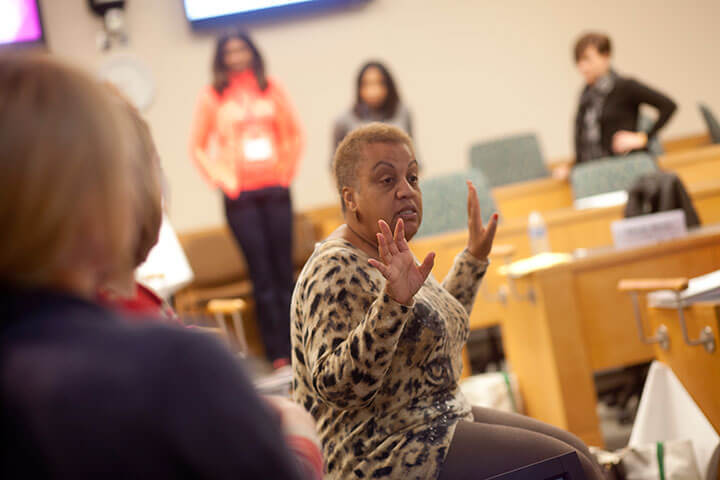 Photo credit: Laura DeCapua
Partnership with Tuck Executive Education
The WISE Executive Leadership Institute is offered in partnership with Tuck Executive Education at Dartmouth College in Hanover, New Hampshire. Founded in 1900, the Tuck School of Business is the first graduate school of management and consistently ranks among the top business schools in the world.
Tuck's world-class faculty combines research-based insights and case studies with real-world knowledge and global experience to help executives become more effective and better equipped to transform their organizations — driving innovation, growth and cross-company collaboration.
Faculty
Ella L.J. Bell Smith — Associate Professor of Business Administration — is Faculty Director of the WISE Executive Leadership Institute and a noted scholar, author, and thought leader on the career experiences of multicultural women. She is the author of Career GPS: Strategies for Women Navigating the New Corporate Landscape (Amistad, 2010) and founder of ASCENT — Leading Multicultural Women to the Top. This national not-for-profit organization is committed to women's professional development and corporate career advancement. ASCENT's scope is genuinely multicultural, encompassing white women and immigrants from other world cultures as well as African-Americans, Latinas, Asian-Americans, Native Americans and Muslim women.
Paul Argenti — Professor of Corporate Communication and Faculty Director of Leadership and Strategic Impact and of Brand and Reputation — is a thought leader in strategic communications, reputation management, leading in a crisis, and leadership and personal responsibility. He is the author of Corporate Communication, Digital Strategies for Powerful Corporate Communications and Strategic Corporate Communication.
Pino Audia — Professor of Management and Organizations and Faculty Director of Tuck's Center for Leadership — is an expert in leadership, power and influence, managing change, and executive coaching. He helps executives learn how to use a range of influence tactics to effectively manage change inside organizations, and how to link leadership styles and situational demands to individual leadership development needs.
Stacy Blake-Beard — Visiting Professor in Tuck Executive Education, Associate Professor of Management at Simmons College School of Management and Faculty Affiliate at their Center for Gender in Organizations — is an expert in gender and leadership, unconscious bias, managing visibility, and career action planning. She is particularly interested in the issues women face working in organizations where employees are socialized and the status quo is tolerated.
Sydney Finkelstein — Associate Dean for Executive Education, Steven Roth Professor of Management, and Faculty Director of Tuck Executive Program — is an authority on strategy, strategic decision-making, and strategic leadership. He is the author of the best-selling books Why Smart Executives Fail and What You Can Learn from Their Mistakes and Think Again: Why Good Leaders Make Bad Decisions and How to Keep It From Happening to You.
Phillip Stocken — Professor of Accounting — specializes in accounting and business analysis, and is highly skilled at conveying the essential information in financial statements and financial statement analysis to audiences with varying levels of financial experience and understanding. His work has been published in the Journal of Accounting and Economics, The Accounting Review, American Economic Review, and Journal of Accounting Research.
Judith White —Visiting Associate Professor of Business Administration — teaches courses on negotiations and a research-to-practice seminar on measuring the effects of a diverse workforce. Her current research is focused on gender and diversity in groups, multi-disciplinary teams, narcissism, negotiation, and conflict management.
Action Learning Associates (ALA) — frequent faculty-facilitators with Tuck Executive Education — are experts in linking team and leadership development to strategic goals. They are renowned for their ability to create dynamic, high involvement, experiential learning environments that balance active participation with meaningful reflection, synthesis, and application.
| Access Date | Quiz Result | Score | Actions |
| --- | --- | --- | --- |

Application
(Member Login Required)