WELI Faculty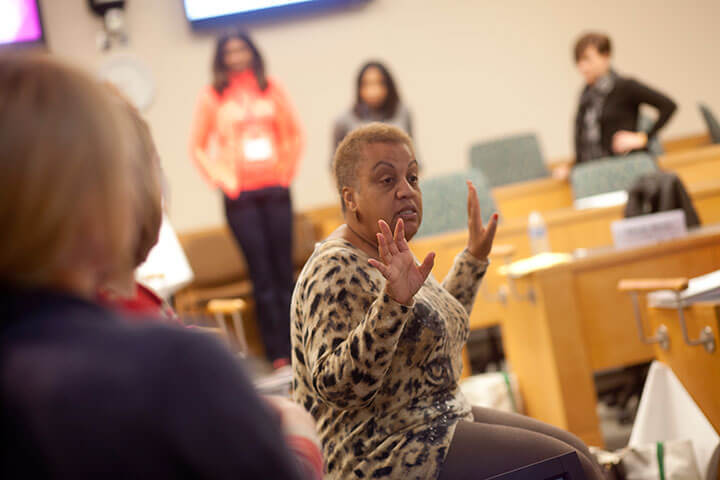 Photo credit: Laura DeCapua
Partnership with Tuck Executive Education
The WISE Executive Leadership Institute is offered in partnership with Tuck Executive Education at Dartmouth College in Hanover, New Hampshire. Founded in 1900, the Tuck School of Business is the first graduate school of management and consistently ranks among the top business schools in the world.
Tuck's world-class faculty combines research-based insights and case studies with real-world knowledge and global experience to help executives become more effective and better equipped to transform their organizations — driving innovation, growth and cross-company collaboration.
Faculty
Ella L.J. Bell Smith — Professor of Business Administration, Tuck School of Business — is Faculty Director of the WISE Executive Leadership Institute and a noted scholar, author and thought leader on the career experiences of multicultural women. She is the author of Career GPS: Strategies for Women Navigating the New Corporate Landscape (Amistad, 2010), co-author of Our Separate Way: Black and White Women and the Struggle for Professional Identity (Harvard Business Review Press, 2021) and founder of ASCENT — Leading Multicultural Women to the Top. This national not-for-profit organization is committed to women's professional development and corporate career advancement. ASCENT's scope is genuinely multicultural, encompassing white women and immigrants from other world cultures as well as African Americans, Latinas, Asian Americans, Native Americans and Muslim women.
Stacy Blake-Beard — Clinical Professor of Business Administration, Tuck School of Business; Emeritus Professor of Management at Simmons College School of Business — is an expert in gender and leadership, unconscious bias, managing visibility and career action planning. Her research focuses on the challenges and opportunities offered by mentoring relationships, with a focus on how these relationships may be changing as a result of increasing workforce diversity. She is particularly interested in the issues women face as they develop mentoring relationships.
Lisa Dicker — Consultant with Triad Consulting Group, Lecturer on Law at Harvard Law School, and Clinical Instructor in the Harvard Negotiation & Mediation Clinical Program (HNMCP) — is also an Adjunct Professor in Bay Path University's M.S. Leadership & Negotiation program and has taught for Harvard University's Program on Negotiation's executive education courses, the Harvard Negotiation Institute, and for independent programs. She has provided workshops, trainings, coaching, and consulting services to a diverse range of clients and participants, including INSEAD, the New Hampshire Superior Court, Olympus, the Alabama Bankers Association, and the United States Institute of Peace. Lisa was previously Counsel at a global pro bono law firm where she advised on conflict prevention, peace negotiations, transitional justice, and post-conflict democratic transitions, including in Libya, Sudan, Syria, Tanzania, and Yemen. Lisa also volunteers as a crisis counselor for Crisis Text Line. Lisa has published academic articles on negotiation and dispute resolution in the Harvard Negotiation Law Review, the University of Memphis Law Review, the ILSA Journal of International and Comparative Law, as well as short-form articles, case studies, and negotiation simulations on platforms including the Bridging Divides Blog and Harvard Law School Case Studies.
Sydney Finkelstein — Steven Roth Professor of Management, Tuck School of Business — is an authority on strategy, strategic decision-making and strategic leadership. His approach to leadership and strategy focuses on the strengths and weaknesses of executive talent. His widely read research analyzes how capable leaders make bad decisions and, ultimately, fail. He is the author of several best-selling books, including Why Smart Executives Fail and What You Can Learn from Their Mistakes (Portfolio, 2004), Superbosses: How Exceptional Leaders Master the Flow of Talent (Portfolio, 2004) and The Superbosses Playbook (Portfolio, 2019), offering a toolkit of practical exercises and activities to enable any manager to become a superboss leader.
Phillip Stocken — Jack Byrne Professor of Accounting, Tuck School of Business — specializes in accounting and business analysis, and is highly skilled at conveying the essential information in financial statements and financial statement analysis to audiences with varying levels of financial experience and understanding. His work has been published in the Journal of Accounting and Economics, The Accounting Review, American Economic Review, and Journal of Accounting Research.
Action Learning Associates (ALA) — frequent faculty-facilitators with Tuck Executive Education — are experts in linking team and leadership development to strategic goals. They are renowned for their ability to create dynamic, high involvement, experiential learning environments that balance active participation with meaningful reflection, synthesis and application.
| Access Date | Quiz Result | Score | Actions |
| --- | --- | --- | --- |